Florida Beaches Red Tide Report – Beach Conditions
Marco Island Naples South Florida Beach Reports & Conditions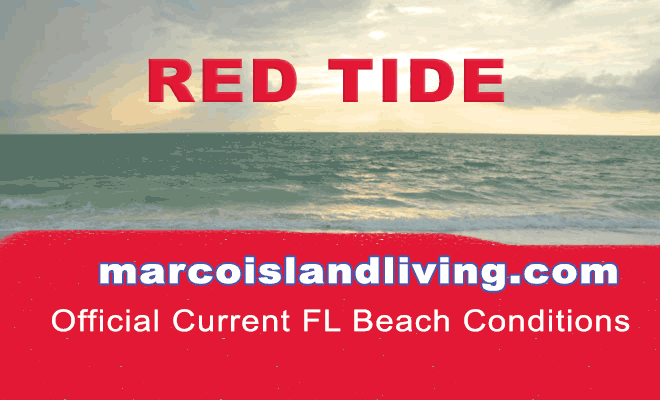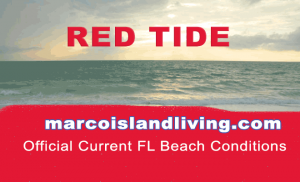 Red Tide is a  common name for a worldwide phenomenon known as an algal bloom. Red Tide has been around for as long as mankind and probably much longer.
Harmful toxins are produced by the various types of red tide. They include Gonyaulax, Karenia, Gymnodinium, Dinophysis, Noctiluca, Chattonella, and Amoebophyra.
Red Tide conditions change by the minute/hour and therefore may not be predicted.
A change in the wind directions and clear up red tide quickly. Remember, not all red tides have toxins, and not all red tides are harmful. Red Tide is not necessarily red – sometimes brown tones or no discoloration is possible. The State of Florida maintains a Florida Red Tide Hot Line with current Florida Red Tide and Beach Conditions – Call 866-300-9399 at any time from anywhere in Florida to hear a recording about red tide conditions throughout the state. Callers outside of Florida can dial 727-552-2448. Standard calling charges apply.


Hilton Marco Island Beach Resort | 560 S Collier Blvd, Marco Island, FL 34145
Save on your Marco Island stay by visiting the official Hilton Marco Island, use Hilton rewards program and explore the latest offerings, special rates and amenities at this resort. Located directly on the beach, minutes from attractions, watersports, Marco Island - Naples activities and world-class golf.
Visit Marco Island Hilton
---


Marco Island Civic Association, 1770 San Marco Rd. #204 Marco Island, Florida 34145 | 239-642-7778
Gain access to the most beautiful beach on Marco Island. If you own improved property or rent on Marco Island for one month or longer, you are eligible to join Residents' Beach! The Marco Island Civic Association (MICA) is the oldest and largest civic group on Marco Island, Florida, contact us for more information.
Visit Website
---
The State of Florida Red Tide Reports is updated on Friday afternoon except during holidays, in which case the report will be released on the closest day. Additional information, if available, is provided on Wednesday afternoon. Visit their website at https://myfwc.com/research/redtide/statewide/.
There are three primary Marco Island public beach access points located on Marco Island – besides the beachfront resorts and condos. Marco Island Beaches are:
Please share your Marco Island beach reviews. To feature your Fl business, contact us.
Marco Island SW Florida Beaches
Tigertail Beach (Tiger Tail Beach is County Owned and Operated)
168 Royal Palm Drive
Marco Island, FL 34145
Located on the northern tip of Marco Island, Tigertail Beach offers a natural beach experience. Beachside amenities include a bathhouse, handicapped accessible restrooms, and changing area, five boardwalks leading from the mangrove-lined parking area to the beach. A view of Dollar Island is possible from the beach. This area is a nesting area for many birds, some that are threatened species.  Herons, Egrets, Ibis, and many kinds of Terns, Sandpipers, Plovers, Eagles, Osprey, and Gulls live in this area.
A trip to Tigertail is not complete without a stroll along the beach for shells and other beach items. Collection of live shells is not permitted within county parks, but should you walk the shorelines, you will find a variety of shells and maybe even a sand dollar.
For your convenience, there are restrooms at the beach. In addition, a concession offers beach equipment rentals, food, and drinks. A handicapped beach wheelchair is available at this site. There are 226 regular parking spaces and 6 handicap parking spaces. Should you have comments, concerns, or any questions, please contact a park ranger.
Residents' Beach
30 South Collier Blvd.
Marco Island, Fl 34113
This beach is private for Marco Island residents only. Only Marco Island residents may apply for a Residents Beach pass.
South Beach
South Collier at Swallow Drive
Marco Island, FL 34145
There is a parking lot that requires a Collier County Beach Pass located on Swallow Drive near the walkway to South Beach.
Keewaydin Island Beach
Keewaydin Island
The beach at Keewaydin Island is only accessible by boat.
Marco Island Beaches are patrolled and are not available for overnight camping. Don't even think about camping out on Marco Island Beach – the beach patrols are looking out for any unlawful activity, especially just after sunset. Unless you are staying at a beachfront resort or condo you are not permitted to enter Marco Island Beaches after 10:00pm. Marco Island and the rest of the 10,000 islands in the Florida Everglades is an important nesting and migrating area for birds. Wildlife and bird viewing or "birding" is a popular outdoor activity. You should be careful not to disturb island birds and turtles when visiting Marco Island Beaches. Several of the island's birds and turtles are on the endangered species list and fines are imposed for violators. Due to Marco island's important and fragile ecosystem, dogs or pets of any kind are not allowed on any Marco Island Beaches.