Residents' Beach Marco Island FL Beaches
Gulf Coast FL Beaches – Resident's Beach Marco Island Pass Info
What's the joy of an island without beaches? Marco Island in southwest Florida has some wonderful beaches with beautiful views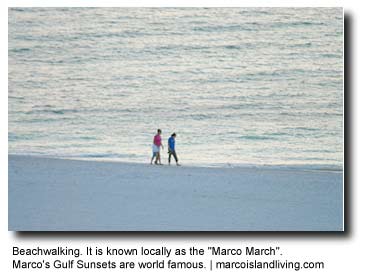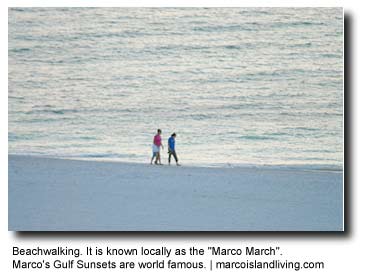 of the Gulf of Mexico. After all, it's Marco beaches that make magic. Residents Beach is what many people consider to be the most beautiful beach on Marco. It is true, Residents' Beach is located just about the dead center of Marco Island Beach. The sand is silky smooth and the beach is widest at Residents' Beach. If you are strolling Marco Island Beach, you should refrain from using the tiki huts or entering the Residents' Beach gate. This is a private beach for Marco Island residents only, and you may be asked for proof of residency. The parking lot and the beach area are patrolled and no vehicles are permitted entry without producing proper identification.
 If you own property on Marco Island you are eligible to join the Marco Island Residents' Beach. The membership fee is more than $140.00 annually. Resident's Beach Membership includes the use of Resident's Beach, dining at the Paradise Grill, convenient parking, restrooms, showers, picnic chickees with charcoal grills, playground, beach wheelchairs with easy handicap access to facilities and many other benefits such as family-friendly concert events.
Membership also includes the use of Sarazen Park on the south end of the island, which offers beach access, parking, restrooms, playground, and picnic facilities. Resident's Beach is maintained by the Marco Island Civic Association. Ask us about visiting Marco – Naples Florida or share your Marco Island comments.
Marco Island SW Florida Beaches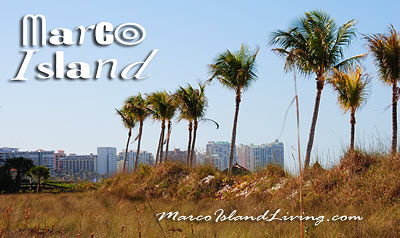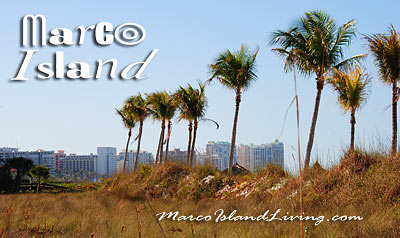 Tigertail Beach
168 Royal Palm Drive
Marco Island, FL 34145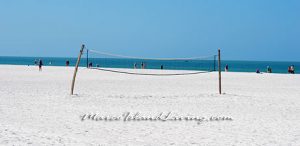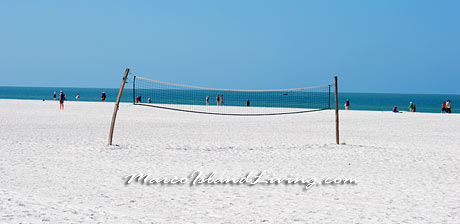 Marco Island Historical Society Museum
Residents' Beach
30 South Collier Blvd.
Marco Island, Fl 34113
This beach is private for Marco Island residents only. 
South Beach
South Collier at Swallow Drive
Marco Island, FL 34145
There is a parking lot that requires a Collier County Beach Pass located on Swallow Drive near the walkway to South Beach.
The island – the largest of the Ten Thousand Islands – features a magnificent shoreline that stretches from Tigertail to South Beach. Enjoy miles of clean, uncrowded beaches of white sand and famous Marco sunsets. Marco Island Beaches are world famous – one visit here and you will understand why. Marco Island's crescent-shaped beach extends the entire length of the western side of the island – which happens to overlook the beautiful Gulf of Mexico.
The "Marco Flash" is the flash of deep blue or green light that occurs very seldom but always just after the sun sets into the Gulf. Marco Island Beaches are patrolled and are not available for overnight camping. Don't even think about camping out on Marco Island Beach – the beach patrols are looking out for any unlawful activity, especially just after sunset. Unless you are staying at a Marco Island beachfront resort or condo you are not permitted to enter Marco Island Beaches after 10:00 pm. Marco Island, and the rest of the 10,000 islands in the Florida Everglades, is an important nesting and migrating area for birds. Wildlife and bird viewing or "birding" is a popular outdoor activity.
You should be careful not to disturb island birds and turtles when visiting Marco Island Beaches. Several of the island's birds and turtles are on the endangered species list and fines are imposed for violators. Due to Marco island's important and fragile ecosystem, dogs or pets of any kind are not allowed on any Marco Island Beaches.
BEACHWEAR & BEACH ACCESSORIES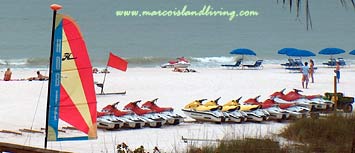 Contact Us | Marco Island Living Store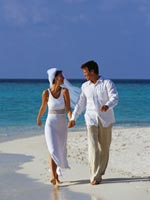 Marco Island Weddings




Fun | Dining | Eco Tours | Fishing

Real Estate | Rentals

Resorts | Pet Friendly