Everglades Backwater Fishing Tours
Marco Island – Florida Everglades Fishing Guides –  Captain Phil DeVille
The Florida Everglades is a fishing paradise. There are more than 100 different species of fish living in this beautiful region of southwest Florida. The Florida Everglades / Gulf of Mexico is a sporting adventure that is truly unforgettable. The thousands of mangrove islands make this area difficult to navigate. Fortunately, there are several certified, fishing guides available that know the waters and how to catch fish and view wildlife. This is prime south Florida fishing waters but before you, fish call an experienced Naples / Marco Island Florida fishing guide. The Everglades – South Florida Fishing Charters and Captains below will provide everything you need for a safe, successful backwater Florida fishing experience.
Fishing The Florida Everglades
Share your Marco Island – Naples FL reviews or ask us about visiting Marco Island Florida. To feature your business, contact us.
Florida Everglades Fishing Charters


Everglades City Fishing Charters, currently leaving from Everglades Bait and Tackle, Everglades City, FL | 239-253-9926
Experience the wonder of the 10,000 islands of SWFL. Fish the protected bays and rivers of the Islands and Everglades National Park. Fish among the mysteries of wrecks, hard bottom reefs, and offshore towers. Seek some of the most exciting game fish that call the Florida Everglades Home.
Everglades City Fishing Charters - Everglades City, FL
---


Capt. Phil DeVille – 10,000 Islands Backwaters - Everglades National Park Fishing Tours, Port of the Islands, Naples, FL | 239-293-5480
Share Captain Phil's passion for the Ten Thousand Islands - Florida Everglades charter fishing trips. Fish for Snook, Red Fish, Trout, Snapper, Flounder and more from a 17' Mitzi Skiff Flats Boatfish. Over 15 varieties of edible fish and great sport fishing. Up to 189 species of birds may be seen in a single trip. View alligators, crocodiles, osprey, eagles, dolphin, and manatee.
Visit Capt. Phil DeVille - Evergaldes Fishing
---
The 10,000 Islands of the Florida Everglades can be confusing once you get between the mangroves. The myriad of waterways can cause the inexperienced boater to become disoriented – besides a seasoned fishing guide knows that waterways, the proper baits to use, and what fish are biting where. Therefore, I suggest you book a half-day or full-day fishing guide to take you on your Florida fishing journey.
Our Florida Everglades fishing excursion was with the amicable and experienced Fishing Captain Phil DeVille. Phil's genuine love for the Everglades became apparent within the first few minutes of our journey. Phil has been fishing the Florida Everglades for decades. A native of Florida's Gulf Coast, he operates out of Port of The Islands Marina located south of Marco Island on US Route 41. Port of the Island Marina is a county-owned park. It is about 12.5 miles east of Collier Blvd.

The anticipation of your catch is one of the most exciting aspects of fishing the 10,000 Islands backwater.
Florida Wildlife Viewing
Watching a giant Tarpon swirl in the shallow water was one of many unforgettable moments in the Florida Everglades. The birding and wildlife of the Everglades are amazing. Up to 189 species of birds may be seen in a single trip. Bottle-nose dolphins, Alligators, Crocodiles, and Manatee also live in these waters.
What to Bring
Captain Phil DeVille provided just about everything we need – bait, tackle, licenses, ice, net, and extra gear. Your catch will even be cleaned and put on ice for you. When booking our fishing trip it was suggested we bring along a camera, rain gear (which was not needed), sunblock, insect repellant, a hat, sunglasses, snacks, and beverages. Double-check this list before getting into the boat. Extra camera batteries are a good idea also. The scenery is spectacular.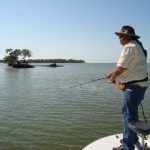 Contacting Captain Phil
If you would like to share Captain Phil's passion for the Florida Everglades reach him by telephone or email. Captain Phil DeVille is a fully licensed and insured Charter Boat Captain with a US Coast Guard Master Seaman's license, registered with the National Parks Service as a fishing guide. Tell him Marco Island Living sent you. Call 239-293-5480. Contact us, to feature your Marco Island fishing, boating, charter boat or other business, in Marco Island Living, Marco's Internet Magazine.


Contact Us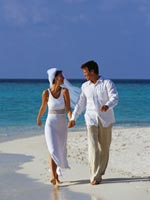 Marco Island Weddings


Fun | Dining | Eco Tours | Fishing

Real Estate | Rentals

Resorts | Pet Friendly