Marco Island Naples SW FL Eco Tours
Florida Everglades Wildlife Viewing Boat Tours
View Florida wildlife in its natural environment, take a Florida Eco-Tour.  An eco-tour in the south Florida, Everglades, 10,000 Islands area is an unforgettable adventure the entire family will enjoy. View the Gulf's spectacular wildlife from the safety of your guide's tour boat. Our suggested south Florida Eco-Tour Boat Guides have experienced boating in the 10,000 Islands and mangrove forests. The south Florida Gulf of Mexico is teeming with an abundance of fish and wildlife that include; dolphins, eagles, manatee, osprey, alligators, snook, tarpon, grouper, snapper, and sea trout.
Share your Marco Island – Naples FL eco-tour reviews or ask us about visiting Marco Island Florida. To feature your business, contact us.
Marco Island – Naples SW FL Eco-Tours


Go Cats On The Water - Port Of The Islands, Naples, FL | 239-748-4099
Marco and Naples Most Exciting Boat Tour. Explore the backwater and mangroves for an unforgettable adventure in Southwest Florida. Everglades Backwater Sightseeing Eco-Tours in our safe, and easy to drive boats. Choose a 75 minute or a 3 hour tour. Our custom Go-Cat boats are fun for all ages and can easily be operated by both younger adults and seniors.
GoCatsOnTheWater.com - Naples, FL
---


Avi's Water Sports Jet Ski Adventure Tours, Caxambas Park, 909 Collier Ct., Marco Island, FL 34145 | 239-777-9873
Avi's is a family-owned business that offers some of the most exciting dolphin jet ski tours and jet ski rental adventures on Marco Island. You are invited to take an exciting journey with Avi "The Dolphin Whisperer" and take home a complimentary flash drive of photos from your adventure. Bring the family and make lasting memories. Contact us to book your dolphin Jet Ski tour.
Avi's Water Sports & Jet Ski Adventure Tours - Marco Island, FL
---


Naples Bicycle Tours, Naples, FL 34113 | 239-580-7960
Naples Bicycle Tours provides a unique opportunity for visitors and residents to experience Marco Island, the Natural Florida Everglades, and Historic Old Naples up close and personal, on a bicycle. All bike tours include everything needed for an amazing bicycling adventure: custom-fit cycle, helmet, drinks, snacks, and a certified FL naturalist guide.
Naples Bicycle Tours - Naples, FL
---
The manatee is native to the Florida waters. They are vegetarians, prefer warm water, and live in shallow marshy areas. They travel in herds and are an endangered species. Please be very careful not to disturb or come in contact with a manatee. Manatees are often unknowingly injured by boaters. Manatee viewing tip – bring along polarized sunglasses. Manatee often float just below the surface of the water, so the polarized lenses will help combat the sun reflections and allow you a better glimpse of the "elephants of the sea".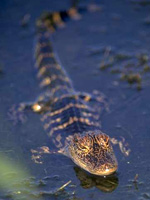 The American alligator is common in south Florida. The alligators' (aka: Gators) habitat ranges from North Carolina to the southern tip of Florida and west into Texas. Yes, there are alligators on and just off of Marco Island. The canals are popular 'gator hangouts.  While a Florida Eco-Tour may primarily be targeting Manatee and other birds it is quite possible to see a Florida Gator lurking in the backwaters or sunning on the shoreline.
View an Everglades Eco Tour Video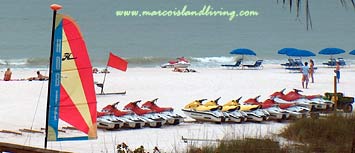 Marco Vacation Rentals | Marco Island Restaurants
Contact Us | Marco Island Living Store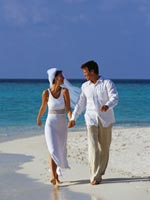 Marco Island Weddings




Fun | Dining | Eco Tours | Fishing

Real Estate | Rentals

Resorts | Pet Friendly