Marco Island Naples Florida Gulf Fishing
Florida Fishing Charters – Boat Captains – 10,000 Islands – Gulf of Mexico
Everglades National Park Fishing – Backwater Fishing – Deep Sea Charters – Fish Species – Charter Fishing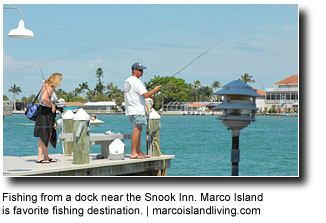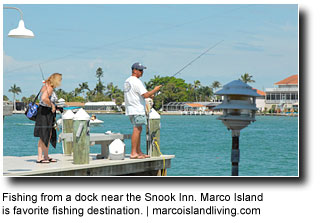 Fishing fun for free! You can fish without a valid fishing license, at least for a few days every year. The Florida Fish and Wildlife Conversation Committee has announced the dates for this year's Florida Free Fishing Days.  Florida Fish for Free Days present an excellent opportunity for parents who don't yet have licenses to take youth fishing, or avid anglers to introduce a friend to fishing without having to purchase a license. On these days, the fishing license requirement is waived for all recreational anglers (residents and non-residents). All other rules (e.g., seasons, bag and size limits) apply. If you are fishing on a Florida Charter Fishing boat, ask your Captain about Fishing License requirements.
2015 Free Fishing Days in Florida
First Saturday and Sunday in April
Second Saturday and Sunday in June

License-free saltwater fishing days for 2015 and beyond

First Saturday and Sunday in June
First Saturday in September
Saturday following Thanksgiving
The saltwater waiver applies to any recreational harvest requiring a saltwater fishing license (e.g., crabbing, lobstering, scalloping, etc.) as well as fishing from shore or a boat. A snook or spiny lobster permit are not required on these days.
Contact us, to feature your Florida fishing  service, boating, charter boat or other business on the web and in Marco Island Living, Marco's Internet Magazine. Please share your Florida fishing comments, updates and reviews.
License Free FL Fishing Days from FF&W


Everglades City Fishing Charters, currently leaving from Everglades Bait and Tackle, Everglades City, FL | 239-253-9926
Experience the wonder of the 10,000 islands of SWFL. Fish the protected bays and rivers of the Islands and Everglades National Park. Fish among the mysteries of wrecks, hard bottom reefs, and offshore towers. Seek some of the most exciting game fish that call the Florida Everglades Home.
Everglades City Fishing Charters - Everglades City, FL
---


Sunshine Tours and Fishing Charters, Rose Marina, 951 Bald Eagle Dr., Marco Island, FL | 239-642-5415
Sunshine Tours. Fish the 10,000 islands, the best in Off Shore, Back Water, and Near Coastal Fishing Charters. We know where the fish are. Also offering Marco Island Shelling Trips, and Sightseeing aboard one of our four fishing boats. Since 1984, Sunshine Tours has provided unsurpassed fishing charters, and on-the-water experiences for locals and visitors alike. Shared and private charters available. Contact us to book your Marco Island fishing charter.
Sunshine Tours & Charters - Marco Island, FL
---
DEALS on Fishing Gear
Read about Florida Backwater Fishing. Florida is world famous for outstanding Backwater, Everglades,  10,000 Islands Fishing for snook, tarpon and more.
Gulf of Mexico Saltwater Fishing
Fish Species | Florida Tarpon Fishing | Naples-Marco Fishing Charters
Contact Us | Marco Island Living Store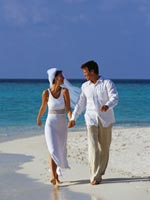 Marco Island Weddings




Fun | Dining | Eco Tours | Fishing

Real Estate | Rentals

Resorts | Pet Friendly