Horr's Island
10,000 Islands Key Marco SWFL History – Marco Island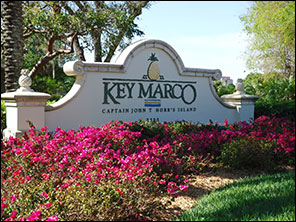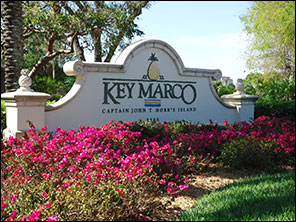 Welcome to Key Marco – formerly known as Horr's Island. This barrier shell island located just south of Marco Island is a significant archaeological site. Early native American Indians lived on this island more than 4000 years ago. Today Horr's Island is called Key Marco. Key Marco is sandwiched between Barfield Bay and Bluehill Bay. The island which totals 546 acres, was once a pineapple plantation and before that was the home of Captain John Foley Horr.
Remnants of Captions Horr's home are listed on the National List of Historic Places and the foundation can still be seen although access to the island is limited due to the gated nature of the community. Find Key Marco (Horr's Island) southwest of Marco Island traveling towards Goodland, take a right on Whiskey Creek Drive which is a gated housing development. You have to check in at the gate and show your driver's license to get in.
View YouTube posted video of the former Capt. John Foley Horr House below.  Ask us about the Key Marco or share your comments. To feature your Southwest Florida business online, contact us.
Key Marco – Historic Horr's Island
Horr's Island (Key Marco) was the largest known community in the southeastern United States to have been permanently occupied during the Archaic period – approximately 8000 years BC.
Horr's Island is presently a Gated Community called Key Marco.
FLORIDA PRODUCTS SALE

| Photo | Title | Price | Buy |
| --- | --- | --- | --- |
| | Old Florida Gourmet Products, Inc. Assorted Gift Box Variety Pack Tortilla Chips and Premium Jarred Salsa | $38.99 ($38.99 / Count) | Sale Item |
| | Old Florida Gourmet Products Lime Sensation Tortilla Chips 11oz - Case of 12 | $57.99 ($57.99 / Count) | Sale Item |
| | Old Florida Gourmet Mild Mango Pineapple Salsa | $8.99 ($0.53 / Ounce) | Sale Item |
| | Old Florida Gourmet Blue Crab Salsa | $9.99 ($9.99 / Count) | Sale Item |
| | Raw Honey - Pure All Natural Unfiltered & Unpasteurized - McCoy's Honey Florida Orange Blossom Honey 1 Gallon | | Sale Item |
| | Raw Honey - Pure All Natural Unfiltered & Unpasteurized - McCoy's Honey Florida Orange Blossom Honey 3lb | $31.99 ($0.67 / Fl Oz) | Sale Item |
| | Buzzn Bee Raw and Unfiltered Orange Blossom Honey - From Florida's Beekeepers - 3lbs (48 ounces) Jug | $32.99 ($0.69 / Ounce) | Sale Item |
| | Raw Honey - Pure All Natural Unfiltered & Unpasteurized - McCoy's Honey 12oz Variety 3 Pack | $27.99 ($0.78 / Ounce) | Sale Item |
| | Honey Feast - Raw Orange Blossom Honey | from American Organic floral sources | Unfiltered & Pure | Fresh from Florida Superfood | GROUP (3 Pound) | | Sale Item |
| | Juicy Indian River Florida Navel Oranges Grove Fresh 2 Trays, 20lbs | $81.22 ($4.06 / lb) | Sale Item |
| | Juicy Indian River Florida Navel Oranges Grove Fresh 15lbs, 1.5 Trays | $70.95 ($4.73 / lb) | Sale Item |
| | Juicy Indian River Florida Navel Oranges Grove Fresh, 10 lbs! | $59.95 ($59.95 / Pound) | Sale Item |
| | Gourmet Fruit Gift Pack, Orchard Fresh (8lb) Family Pack Grapefruit (12 pieces) Loaded with Immunity Boosting Vitamin C from Capital City Fruit, Farm Produce Direct | $49.95 ($6.24 / lb) | Sale Item |
| | Fresh Florida Red Grapefruit, 8 pieces | $50.95 ($6.37 / lb) | Sale Item |
| | Indian River Ruby Red Grapefruit AND Navel Oranges Grove Fresh 2 Trays, 20lbs | $71.98 ($3.60 / lb) | Sale Item |
| | Grove Fresh Ruby Red Grapefruit and Navel Orange Indian River Citrus Basket, Approx. 10lbs | $74.95 ($7.50 / lb) | Sale Item |
| | Gift Basket Village Taste Of Florida Gift Basket | $41.86 | Sale Item |
| | Grove Fresh Ruby Red Grapefruit and Navel Orange Indian River Citrus Basket, Approx. 10lbs | $74.95 ($7.50 / lb) | Sale Item |
| | Florida Shells & Gifts: Sea Life Sampler: Sea Urchin, Starfish and Sand Dollars (10 pcs) Beach Decor Art | $14.99 ($1.50 / Count) | Sale Item |
| | Florida Shells & Gifts - 6 Real Dried Small Sugar Starfish (2-3" / 50-77 mm) Beach Arts and Crafts, Coastal Cottage and Nautical Home Decor, Beach Weddings | $17.99 ($3.00 / Count) | Sale Item |
| | Florida's Fabulous Seashells: And Other Seashore Life | $9.90 | Sale Item |
| | Beach Scene II Canvas Wall Art Print, Coastal Artwork | $104.99 | Sale Item |