Marco Island FL Parasailing – ParaSail Rentals
Marco Island Florida Watersports Parasailing Tours


Nothing beats soaring over the open ocean with the sense that you are flying!  Florida Parasailing on Marco Island beach is awesome. Parasailing offers amazing views of the island as well as the Gulf of Mexico. Enjoy the wildlife of manatees, dolphins and stingrays from high in the sky.  Adventurous? Consider a Florida Parasail Ride. A Marco Island Watersport Adventure available in Naples and on Marco Island, Florida. Share your Marco Island – Naples FL reviews or ask us about visiting Marco Island Florida. To feature your business, contact us.
Marco Island – Naples SW FL Parasail Rides


Island Hopper Boat Rentals and Tours, 525 Newport Dr., Naples, FL 34114 | 239-961-2473
Guided boat tours leaving Port of the Islands Marina, Naples, Florida Touring the Everglades and the Ten Thousand Islands area. Rent a pontoon for a full day of fun. Whitehorse Key is a great place to beach your boat and find amazing shells. Walk the island, explore the 10,000 islands, and enjoy a great view of the Gulf of Mexico. Look for manatee, dolphin, alligators and everything the Everglades has to offer. See the 10,000 islands up close.
Visit Island Hopper Boat Rental & Tours - Naples, FL
---


Avi's Water Sports Jet Ski Adventure Tours, Caxambas Park, 909 Collier Ct., Marco Island, FL 34145 | 239-777-9873
Avi's is a family-owned business that offers some of the most exciting dolphin jet ski tours and jet ski rental adventures on Marco Island. You are invited to take an exciting journey with Avi "The Dolphin Whisperer" and take home a complimentary flash drive of photos from your adventure. Bring the family and make lasting memories. Contact us to book your dolphin Jet Ski tour.
Avi's Water Sports & Jet Ski Adventure Tours - Marco Island, FL
---
Parasailing
Have you ever wanted to fly like a bird, float on a cloud, or view the world from above? If your response is yes, parasailing is the sport for you. Your Parasailing Adventure begins on a powerboat. You enter the boat from the shoreline, alone or with a friend. After climbing onboard you harness up and take a seat at the back of the boat. The sail is let out, as the boat takes off and before you know it you are floating 300 feet above the water.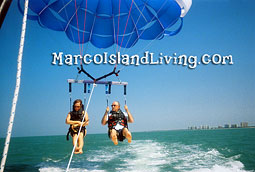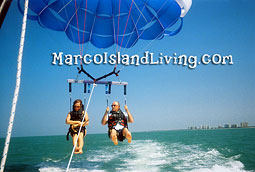 Parasailing Photos
Remember to bring along a camera. From several hundred feet up in the air you can hear only the wind gently blowing in your ears. The sights are breath taking, the skyline of Marco island on one side, the Gulf of Mexico never ending on the other.
As luck would have it dolphins jumped in the Gulf waters below. Manatees and string rays have been spotted jumping in the water below. You fly like a bird for approximately 10 minutes and then you are reeled back into the boat standing up. An unforgettable experience that left me breathless and in awe.
Contact Us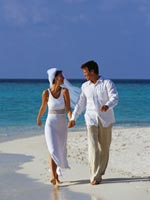 Marco Island Weddings






Fun | Dining | Eco Tours | Fishing

Real Estate | Rentals

Resorts | Pet Friendly