Florida Scuba Diving
Marco Island SWFL Scuba Diving & Snorkeling – Underwater Photography Tips
Marco Island is a great place to learn to scuba dive and a great place to snorkel. There are local dive spots that tick all the boxes when it comes to outstanding wildlife, nice clear water, and gentle, easy conditions.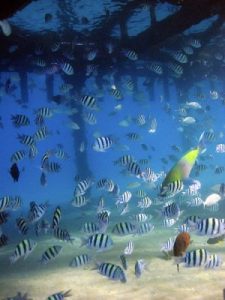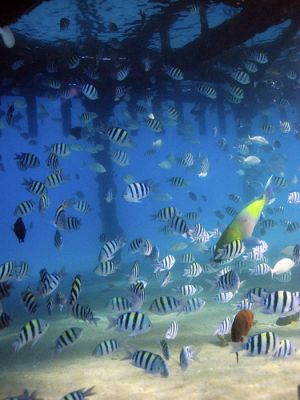 Share your Marco Island – Naples FL scuba diving reviews or ask us about visiting Marco Island Florida. To feature your business, contact us.
Marco Island – Naples SW FL Scuba Diving


Go Cats On The Water - Port Of The Islands, Naples, FL | 239-748-4099
Marco and Naples Most Exciting Boat Tour. Explore the backwater and mangroves for an unforgettable adventure in Southwest Florida. Everglades Backwater Sightseeing Eco-Tours in our safe, and easy to drive boats. Choose a 75 minute or a 3 hour tour. Our custom Go-Cat boats are fun for all ages and can easily be operated by both younger adults and seniors.
GoCatsOnTheWater.com - Naples, FL
---


Avi's Water Sports Jet Ski Adventure Tours, Caxambas Park, 909 Collier Ct., Marco Island, FL 34145 | 239-777-9873
Avi's is a family-owned business that offers some of the most exciting dolphin jet ski tours and jet ski rental adventures on Marco Island. You are invited to take an exciting journey with Avi "The Dolphin Whisperer" and take home a complimentary flash drive of photos from your adventure. Bring the family and make lasting memories. Contact us to book your dolphin Jet Ski tour.
Avi's Water Sports & Jet Ski Adventure Tours - Marco Island, FL
---


Naples Bicycle Tours, Naples, FL 34113 | 239-580-7960
Naples Bicycle Tours provides a unique opportunity for visitors and residents to experience Marco Island, the Natural Florida Everglades, and Historic Old Naples up close and personal, on a bicycle. All bike tours include everything needed for an amazing bicycling adventure: custom-fit cycle, helmet, drinks, snacks, and a certified FL naturalist guide.
Naples Bicycle Tours - Naples, FL
---


Marco Island Princess / Sunshine Tours, Rose Marina, 951 Bald Eagle Dr., Marco Island FL 34145 | 239-642-5415
The Marco Island Princess is a 90' luxury yacht offering daily Sightseeing, Lunch and Sunset Dinner Cruises. All of our delicious meals are prepared fresh on board for your enjoyment. Our professional and friendly crew will attend to your every need. Two full service cash bars serving up all of your favorite drinks! Also available for Weddings and Private Charters. Marco Island's most unique dining experience!
Visit The Marco Island Princess - Marco Island, FL
---


Sunshine Tours and Fishing Charters, Rose Marina, 951 Bald Eagle Dr., Marco Island, FL | 239-642-5415
Sunshine Tours. Fish the 10,000 islands, the best in Offshore, Back Water, Off Shore, and Near Coastal Fishing Charters. We know where the fish are. Also offering Marco Island Shelling Trips, and Sightseeing aboard one of our four fishing boats. Since 1984, Sunshine Tours has provided unsurpassed fishing charters, and on-the-water experiences for locals and visitors alike. Shared and private charters available. Contact us to book your Marco Island fishing charter.
Sunshine Tours & Charters - Marco Island, FL
---
If you're already comfortable diving or snorkeling (and anyone who can swim can snorkel with only a little practice) one of the next steps is to figure out how to record your underwater adventures and share them with other people. This means learning how to take good photos underwater.
First of all, you don't have to go out and buy a brand new, expensive underwater camera setup, nor do you have to settle for a cheap disposable camera. The best thing for new underwater shutterbugs to do is to get waterproof plastic housing for their everyday camera. Housings are available to fit most modern digital compacts. Underwater Cameras
can deliver amazing results.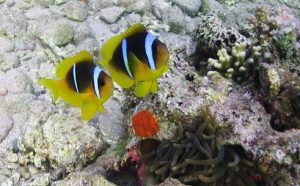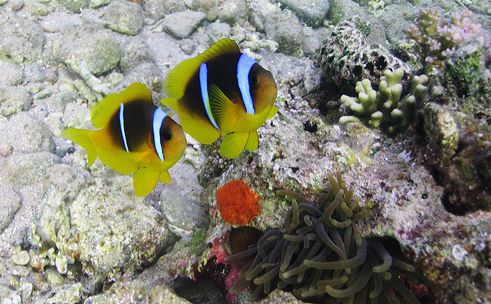 Taking photos with a housing might feel clumsy at first, so take some practice shots above the water. When you're used to adjusting the settings and zooming in and out on dry land, make sure you've got a full battery charge and plenty of memory space. It's time to get wet and take your camera with you.
If the water is really clear, you'll be able to take medium-distance shots as normal but if it's even a little murky, you might want to start off with some close-ups. The less water there is between the camera and the subject, the more vivid your colors will be and the clearer the image. Many beginners find that they get their most memorable shots in macro mode.
Shooting macro photos also reduces the need for a flash. On one hand, a flash will help you capture bright colors underwater, but on the other, the light can reflect off particles suspended in the water between you and the subject and come back to hit the lens. This effect is called backscatter. If you've ever taken an underwater photo that came out grainy and speckled with white, backscatter is probably responsible.
You can get rid of backscatter by switching off the flash. In shallow water and bright sun, you might not need a flash- natural light is often just fine. If the water is deeper or darker, try using an external flash positioned above the camera or off to one side. That will go a long way towards getting rid of backscatter.
The best way to learn underwater photography is by experimentation. Get down there and have some fun, but don't get too caught up in photography. All divers and snorkelers need to stay alert for hazards whether they're taking photos or not, and no image is worth getting into danger for.
Scuba Diving in Southwest Florida
Southwest Florida offers an incredible playground for scuba diving enthusiasts. With its diverse marine ecosystems, stunning underwater landscapes, and abundant marine life, this region beckons adventurers to delve beneath the surface and experience the beauty hidden beneath the waves. In this article, we will explore scuba diving in Southwest Florida, providing essential tips, introducing scuba diving lingo, and highlighting the necessary requirements for a safe and exhilarating underwater experience.
Scuba Diving Tips:
Choose the Right Dive Sites: Southwest Florida boasts numerous dive sites suitable for divers of all experience levels. Popular locations include the Gulf of Mexico, the Florida Keys, and the abundant reefs of Lee County. Research different sites to ensure they align with your skill level and interests.
Dive with a Buddy: Always dive with a buddy for safety. Having a reliable dive partner can enhance the overall experience and provide assistance in case of an emergency. Remember to establish a pre-dive plan and maintain visual contact underwater.
Plan Dive Profiles: Before each dive, carefully plan your dive profile, including depth, time, and decompression limits. Stick to these limits to avoid the risk of decompression sickness and other diving-related injuries. Use dive computers and tables to aid in planning.
Check Equipment Regularly: Regularly inspect and maintain your scuba diving equipment. Check for any damage, ensure proper functionality of regulators, BCDs (buoyancy control devices), and other gear, and test your equipment before each dive.
Practice Buoyancy Control: Mastering buoyancy control is crucial for conserving energy, minimizing damage to marine life, and ensuring a safe diving experience. Practice proper buoyancy control techniques and finning methods to achieve effortless movement through the water.
Scuba Diving Lingo:
BCD: Buoyancy Control Device – An inflatable vest worn by divers to control buoyancy and maintain proper depth underwater.
Nitrox: Enriched Air Nitrox – A breathing gas mixture with higher oxygen content than regular air, allowing for extended dive times and reduced nitrogen absorption.
Dive Buddy: A fellow diver with whom you dive and rely on for safety and assistance during the dive.
Decompression Stop: A pause during ascent to allow the elimination of excess nitrogen absorbed during the dive and prevent decompression sickness.
Dive Flag: A flag, often red with a white diagonal stripe, used to indicate the presence of divers below. It is typically displayed on boats or floats to alert other watercraft to the diving activity in the area.
Scuba Diving Requirements:
Certification: To scuba dive in Southwest Florida, you must possess a recognized scuba diving certification. Organizations such as PADI (Professional Association of Diving Instructors) offer certification courses that provide the necessary knowledge and skills for safe diving.
Medical Fitness: Before participating in scuba diving, it is essential to ensure you are in good health. Complete a medical questionnaire or consult a diving medical specialist to assess your fitness to dive.
Dive Insurance: Consider obtaining dive insurance to protect yourself financially in case of accidents, medical emergencies, or equipment loss or damage. Several reputable insurance providers offer specialized coverage for scuba diving.
Dive Planning: Thoroughly plan each dive, including factors such as dive sites, depths, bottom times, and emergency procedures. Keep a logbook to record your dives, including details of each location and important observations.
Scuba diving in Southwest Florida offers a thrilling and immersive experience in a diverse underwater world. By following the tips outlined in this article, mastering scuba diving lingo, and meeting the necessary requirements, you can ensure a safe and rewarding adventure beneath the waves. Embrace the beauty of the Southwest Florida marine ecosystems and embark on a journey that will leave you with unforgettable memories and a newfound appreciation for the wonders of the underwater realm.
SCUBA SALE

| Photo | Title | Price | Buy |
| --- | --- | --- | --- |
| | SMACO S300 Plus Mini Scuba Tank 0.5L Portable Mini Diving Tank Reusable Pony Bottle —DOT Certified Tank with 5-10 Minutes Backup Diving Air Tank Kit Oxygen Cylinder for Underwater Exploration Rescue | $149.00 | Sale Item |
| | Cute Scuba Diving Design For Men Women Diving Scuba Diver T-Shirt | $21.99 | Sale Item |
| | XXL Mesh Dive Bag for Scuba or Snorkeling - Diving Snorkel Gear Bags Extra Large Beach and Totes with Zipper Pockets Oversized Duffle Ideal Your Pool Trip | $19.99 | Sale Item |
| | Scuba Diving Apparel - Scuba Diving T-Shirt | $20.95 | Sale Item |
| | Scubapro Premium Boat Coat Men's (Medium) | $199.00 | Sale Item |
| | Scubapro Hydros Pro w/Air 2 Mens Scuba BCD | $1,329.00 | Sale Item |
| | Zeagle Ranger LTD w/Inflator, Hose and RE Valve, Black - L | $1,029.95 | Sale Item |
| | SEAC Smart Screen, Scuba Diving Equipment Kit with BCD, Regulator, Octo, Dive Computer and Pressure Gauge | $819.83 | Sale Item |
| | CRONDA Base Upgraded Scuba Diving Ventilator Tankless Diving System,Portable Rechargeable Scuba Diving Tank, Waterproof Air Compressor,Swimming Pool Toys Diving Toys,Dive Without Tanks (3.5 Hours) | $599.00 | Sale Item |
| | SCUBAPRO Men's Standard High Neck, Black, L | $82.00 | Sale Item |
| | CHIKADIV 1.9L Scuba Tank with 25-30mins Diving time, Portable Diving Tank Set Suitable Within 10m, DOT Certified Mini Scuba Tank Made of Aviation Aluminum for Underwater Exploration A Green | $299.00 | Sale Item |
| | Zeagle Ranger LTD Scuba Diving BCD W/Inflator, Hose and RE Valve (Large, Black) | $1,029.95 | Sale Item |
| | Divers Supply Scuba Package Special of The Month (Medium/Puck Pro Plus Yellow) | $829.95 | Sale Item |
| | Lemorecn Wetsuits Mens Premium Neoprene Diving Suit 3mm Shorty Jumpsuit(3035,XL) | $54.00 | Sale Item |
| | OMGear Wetsuit Men Women 3mm Neoprene Full Body UV Protection One Piece Long Sleeves Scuba Diving Suits Back Zipper Swimsuit for Scuba Diving Surf Snorkeling Swimming (Black&Rose, XX-Large) | | Sale Item |
| | ZCCO 3mm Neoprene Wetsuits, Front Zip Full Body Men and Women Diving Suit, one Piece for Snorkeling, Scuba Diving Swimming, Surfing | $68.99 | Sale Item |
| | Wetsuits Men's Ultra Stretch 7Mm Neoprene Full Suits Long Sleeve, Winter Warm Front Zip Full Body Diving Suit for Snorkeling Scuba Diving Swimming,XL | $192.62 | Sale Item |
| | FLEXEL Full Body Wetsuit for Women Men 3/2mm, 5/4mm Neoprene Wet Suits for Cold Water, Scuba Diving Suit Long Sleeve for Surfing Swimming Snorkeling | $69.90 | Sale Item |
| | ZCCO Men's Wetsuit Ultra Stretch 5mm Neoprene Swimsuit, Front Zip Full Body Diving Suit, one Piece for Snorkeling, Scuba Diving Swimming, Surfing (black-5mm, X-Large) | $155.99 | Sale Item |
| | XUKER Women Wetsuit 3mm, Neoprene Wet Suits Back Zip in Cold Water Full Body Dive Suit for Diving Snorkeling Surfing Swimming Canoeing, Medium | $70.99 | Sale Item |
Contact Us | Marco Island Living Store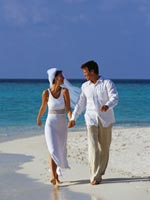 Marco Island Weddings




Fun | Dining | Eco Tours | Fishing

Real Estate | Rentals

Resorts | Pet Friendly