Florida Crocodiles & Alligators
Marco Island Florida Wildlife Photography Preservers Information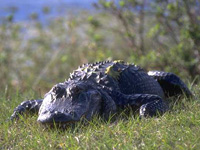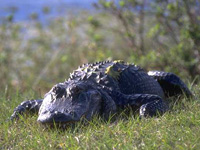 While there is a remnant population of American crocodiles in Florida they mostly live in Central and South America. Other crocodiles in the Americas include the Orinoco crocodile in the northern regions of South America, as well as the Cuban crocodile which now resides solely in certain parts of Cuba although they once existed throughout the Caribbean. There are some key differences between crocodiles and alligators. An alligator has a wider snout than a crocodile and it's lower teeth do not protrude as a crocodiles do when their mouth is closed. Also, alligators and crocodiles are different in color; while alligators are black, crocodiles are a brown or green color.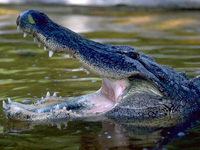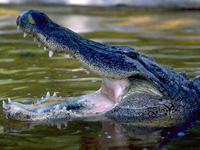 The American alligator is native to North America. Their habitat ranges from North Carolina to the southern tip of Florida and west into Texas. They live in freshwater ponds, rivers and swamps although they have been known to venture outside those areas. The American alligator has been around since dinosaurs walked the earth. Nearly hunted into extinction for their leather-like hide in the 1800s, alligators are now an endangered species.
Alligators play an important role in the life of the wetlands. They are very helpful in population control as they eat everything from fish and rodents to deer and bear. The size of an alligator will, of course, depend on what it eats. As an alligator grows it will hunt larger prey.
Alligators also create what are known as gator holes. These holes range in size depending upon the size of the alligator and how much space is desired. These holes are often made with a hidden chamber under a bank. The alligator creates these gator holes in order to survive droughts as well as the dry and winter seasons. They also help other creatures such as fish, insects, turtles and birds to survive those same seasons.
As more of their natural habitat is being developed alligators are venturing more often into urban areas. This causes them to become an annoyance. It is against the law to feed alligators. Feeding alligators causes them to lose their fear of humans, thus becoming a more dangerous threat. Ask us about Birds on Marco Island or share birding comments. To feature your business, contact us.
Crocodiles & Alligators: Everglades Wildlife Photos
Include Me shortcode: file not found


Go Cats On The Water - Port Of The Islands, Naples, FL | 239-748-4099
Marco and Naples Most Exciting Boat Tour. Explore the backwater and mangroves for an unforgettable adventure in Southwest Florida. Everglades Backwater Sightseeing Eco-Tours in our safe, and easy to drive boats. Choose a 75 minute or a 3 hour tour. Our custom Go-Cat boats are fun for all ages and can easily be operated by both younger adults and seniors.
GoCatsOnTheWater.com - Naples, FL
---


Avi's Water Sports Jet Ski Adventure Tours, Caxambas Park, 909 Collier Ct., Marco Island, FL 34145 | 239-777-9873
Avi's is a family-owned business that offers some of the most exciting dolphin jet ski tours and jet ski rental adventures on Marco Island. You are invited to take an exciting journey with Avi "The Dolphin Whisperer" and take home a complimentary flash drive of photos from your adventure. Bring the family and make lasting memories. Contact us to book your dolphin Jet Ski tour.
Avi's Water Sports & Jet Ski Adventure Tours - Marco Island, FL
---


Naples Bicycle Tours, Naples, FL 34113 | 239-580-7960
Naples Bicycle Tours provides a unique opportunity for visitors and residents to experience Marco Island, the Natural Florida Everglades, and Historic Old Naples up close and personal, on a bicycle. All bike tours include everything needed for an amazing bicycling adventure: custom-fit cycle, helmet, drinks, snacks, and a certified FL naturalist guide.
Naples Bicycle Tours - Naples, FL
---


Marco Island Princess / Sunshine Tours, Rose Marina, 951 Bald Eagle Dr., Marco Island FL 34145 | 239-642-5415
The Marco Island Princess is a 90' luxury yacht offering daily Sightseeing, Lunch and Sunset Dinner Cruises. All of our delicious meals are prepared fresh on board for your enjoyment. Our professional and friendly crew will attend to your every need. Two full service cash bars serving up all of your favorite drinks! Also available for Weddings and Private Charters. Marco Island's most unique dining experience!
Visit The Marco Island Princess - Marco Island, FL
---


Sunshine Tours and Fishing Charters, Rose Marina, 951 Bald Eagle Dr., Marco Island, FL | 239-642-5415
Sunshine Tours. Fish the 10,000 islands, the best in Offshore, Back Water, Off Shore, and Near Coastal Fishing Charters. We know where the fish are. Also offering Marco Island Shelling Trips, and Sightseeing aboard one of our four fishing boats. Since 1984, Sunshine Tours has provided unsurpassed fishing charters, and on-the-water experiences for locals and visitors alike. Shared and private charters available. Contact us to book your Marco Island fishing charter.
Sunshine Tours & Charters - Marco Island, FL
---
VIEW A VINTAGE ALLIGATOR VIDEO
FLORIDA WILDLIFE
birds | crocs & gators | fish | panthers | manatees | pythons | gopher tortoise
Contact Us | Marco Island Living Store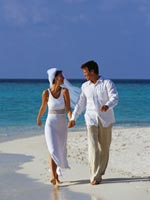 Marco Island Weddings




Fun | Dining | Eco Tours | Fishing

Real Estate | Rentals

Resorts | Pet Friendly