Florida Gopher Tortoise
Marco Island Florida Tortoise Florida Wildlife Photos


Marco Island is home to the endangered Gopher Tortoise. This amazing animal lives on the remote areas of the island. During mating season the tortoise will fight for mating privileges. The females lay eggs in the burrow the tortoise digs. The life of a Gopher Tortoise revolves around its burrow. The decline of suitable habitat is a major reason for the dwindling number of gopher tortoises. Observe and photograph gopher tortoises on Marco Island but please take care not to disturb the tortoise or the burrow. Ask us about Gopher Tortoise on Marco Island or share turtle comments. To feature your business, contact us.
SW Florida Wildlife: Gopher Tortoise


Go Cats On The Water - Port Of The Islands, Naples, FL | 239-748-4099
Marco and Naples Most Exciting Boat Tour. Explore the backwater and mangroves for an unforgettable adventure in Southwest Florida. Everglades Backwater Sightseeing Eco-Tours in our safe, and easy to drive boats. Choose a 75 minute or a 3 hour tour. Our custom Go-Cat boats are fun for all ages and can easily be operated by both younger adults and seniors.
GoCatsOnTheWater.com - Naples, FL
---


Avi's Water Sports Jet Ski Adventure Tours, Caxambas Park, 909 Collier Ct., Marco Island, FL 34145 | 239-777-9873
Avi's is a family-owned business that offers some of the most exciting dolphin jet ski tours and jet ski rental adventures on Marco Island. You are invited to take an exciting journey with Avi "The Dolphin Whisperer" and take home a complimentary flash drive of photos from your adventure. Bring the family and make lasting memories. Contact us to book your dolphin Jet Ski tour.
Avi's Water Sports & Jet Ski Adventure Tours - Marco Island, FL
---


Naples Bicycle Tours, Naples, FL 34113 | 239-580-7960
Naples Bicycle Tours provides a unique opportunity for visitors and residents to experience Marco Island, the Natural Florida Everglades, and Historic Old Naples up close and personal, on a bicycle. All bike tours include everything needed for an amazing bicycling adventure: custom-fit cycle, helmet, drinks, snacks, and a certified FL naturalist guide.
Naples Bicycle Tours - Naples, FL
---


Marco Island Princess / Sunshine Tours, Rose Marina, 951 Bald Eagle Dr., Marco Island FL 34145 | 239-642-5415
The Marco Island Princess is a 90' luxury yacht offering daily Sightseeing, Lunch and Sunset Dinner Cruises. All of our delicious meals are prepared fresh on board for your enjoyment. Our professional and friendly crew will attend to your every need. Two full service cash bars serving up all of your favorite drinks! Also available for Weddings and Private Charters. Marco Island's most unique dining experience!
Visit The Marco Island Princess - Marco Island, FL
---


Sunshine Tours and Fishing Charters, Rose Marina, 951 Bald Eagle Dr., Marco Island, FL | 239-642-5415
Sunshine Tours. Fish the 10,000 islands, the best in Offshore, Back Water, Off Shore, and Near Coastal Fishing Charters. We know where the fish are. Also offering Marco Island Shelling Trips, and Sightseeing aboard one of our four fishing boats. Since 1984, Sunshine Tours has provided unsurpassed fishing charters, and on-the-water experiences for locals and visitors alike. Shared and private charters available. Contact us to book your Marco Island fishing charter.
Sunshine Tours & Charters - Marco Island, FL
---
Gopher Tortoise – Marco Island SW FL Wildlife
Tortoise Life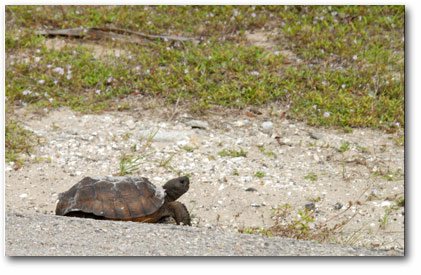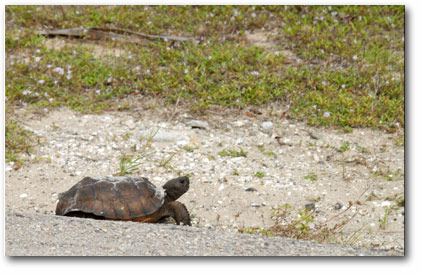 Gopher tortoises, or "gophers" enjoy the sun and dry climate of Marco Island. Gophers prefer dry habitats, such as longleaf pine-scrub oak sandhills and pine scrub. Three conditions are needed for healthy tortoise populations: well-drained sandy soils for digging burrows, sufficient low plant growth for food, and open, sunny areas for nesting. Gopher tortoise populations are scattered throughout the coastal plain of the southeastern United States, with most being found in north-central Florida and southern Georgia. The Gopher Tortoise population is down substantially in southern Alabama and Mississippi, southeastern Louisiana, southeastern South Carolina, and along Florida's southeast coast and throughout much of the Florida Panhandle. In Florida alone, gopher tortoise populations have dwindled to an estimated 30 percent of their original numbers.
Gophers or Gopher tortoises feed mainly on low-growing plants like wiregrass, broadleaf grasses and legumes. Gophers also eat apples, blackberries, saw palmetto berries and other fruits.
Gopher tortoises take a long time to mature ( 10-15 years) and can live 40 years or more. Tortoises mate during April and May. Female tortoises lay up to a dozen eggs or more, usually in front of their burrow in a sunny location. The incubation period of tortoise eggs varies from 70 to 90 days in Florida to more than 100 days in Georgia. Tortoise eggs are a favorite of many animals including; raccoons, foxes, skunks, alligators, fire ants, and others. Predators are believed to destroy more than 80 percent of gopher tortoise nests.
Gopher Burrows
Many animals beside the Gopher Tortoise utilize gopher tortoise burrows. The tortoise burrows are used for shelter by dozens of animals. The gopher frog, the Florida mouse, pine snake, gopher cricket, and others seek the dark, cool, shelter of gopher burrows to escape the heat and hide from predators.
Gopher Tortoise Racing
Tortoise racing has been outlawed by the Florida legislature. Tortoise racing was a Florida tradition. It was a popular way to raise money for local churches and civic organizations. Unfortunately the practice also removed many mature tortoises from their natural habitat and thus contributed to the decline of the species.
Tortoise as Food
Tortoise is considered a delicacy by some people. Tortoise may be tasty but it does not cure high blood pressure or impotence as some have suggested. Tortoise harvesting is now illegal in every state though illegal commercial harvesting does take place to supply the demand for gopher meat.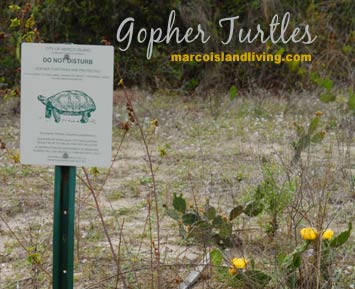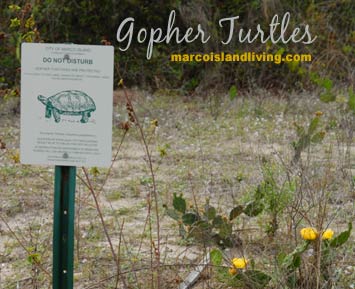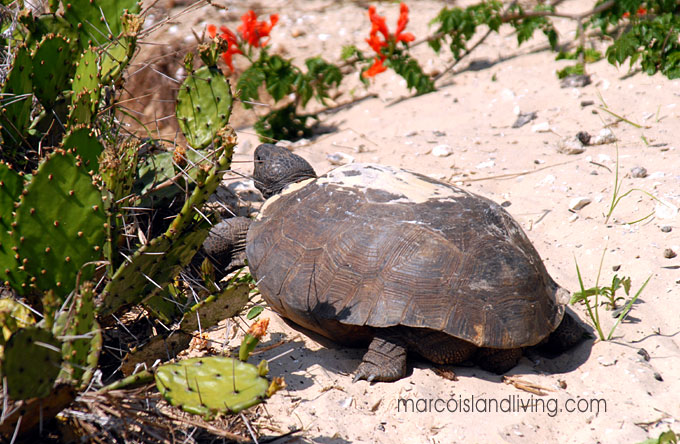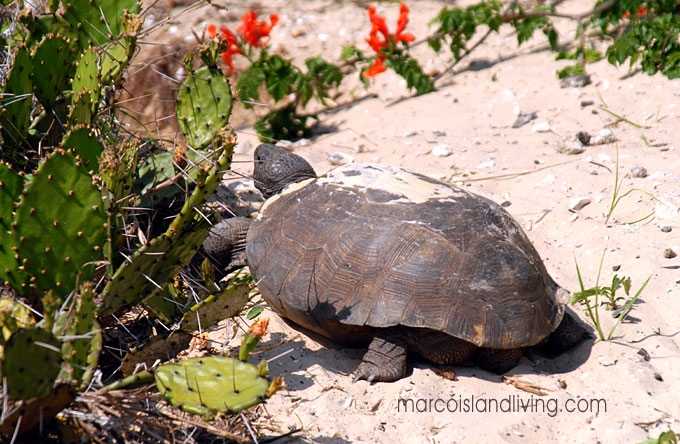 FLORIDA WILDLIFE
birds | crocs & gators | fish | panthers | manatees | pythons | gopher tortoise
Contact Us | Marco Island Living Store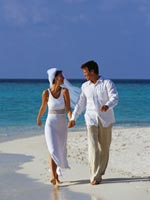 Marco Island Weddings




Fun | Dining | Eco Tours | Fishing

Real Estate | Rentals

Resorts | Pet Friendly